Complete Website Development with WordPress
About Course
This website development with WordPress course is for you, whether you're a coding aficionado or a complete newcomer to the world of tech, our innovative approach ensures that you'll emerge from this course armed with the skills and knowledge needed to flourish as a professional website developer using WordPress and without writing a single line of codes. Even if you are just starting out as a Digital Marketer, learning this course gives you an edge.
Why this Complete Website Development with WordPress Course is Right for you
Embarking on your path to becoming a proficient website developer using WordPress has never been easier. This course transcends the limitations of coding expertise, ensuring that every student, regardless of their technical background, can effortlessly grasp the art of web development. This can be your entry point but it can also be all you need to say goodbye to the intimidating world of complex programming languages and intricate coding syntax – we've tailored our curriculum to provide you with a user-friendly and intuitive experience that caters to your individual learning pace.
In this self-paced learning adventure, you'll unravel the mysteries of professional website development using the power of a Content Management System (CMS). Say hello to WordPress, your gateway to crafting stunning and functional websites with unparalleled ease; that's why this website development course is very needed. Gone are the days of grappling with bewildering code – we've streamlined the process, allowing you to focus on what truly matters: creating captivating online spaces that resonate with your audience without having to spend 12 months and more learning how to code.
As you delve into the modules of this complete website development with WordPress course, you'll navigate through the intricacies of WordPress, mastering its versatile features and functionalities. From crafting visually captivating layouts to seamlessly integrating multimedia elements, you'll be amazed at how effortlessly you can bring your creative visions to life. Our step-by-step tutorials, accompanied by practical exercises and real-world examples, provide you with a comprehensive understanding of the platform, empowering you to design websites that transcend mere aesthetics.
But our course is so much more than just a technical guide – it's a holistic learning experience that equips you with the tools to not only build websites but also craft immersive digital journeys. We delve into the art of user experience (UX) design, imparting invaluable insights into optimizing navigation, enhancing accessibility, and fostering seamless interactions. Your websites won't just be visually stunning; they'll be intuitive and user-friendly, leaving a lasting impact on your visitors.
Upon completion of the course, you'll emerge with a profound sense of accomplishment and certification that attests to your newfound expertise. Our certificate is a badge of honor, a tangible representation of your dedication and commitment to mastering website development with WordPress. It's a credential that can open doors to a world of opportunities – from freelance projects and entrepreneurial ventures to corporate collaborations, your proficiency in WordPress will set you apart in today's digital landscape.
Enroll in our Website Development Class with WordPress and witness your creative aspirations materialize into stunning online realities. Embrace the future of web development – code-free, limitless, and tailored to your unique journey. Your digital odyssey starts here – enroll today and take the first step towards becoming a professional website developer, the WordPress way. It will be a pleasure to have seen you on the inside in this course and we can't wait to see the beautiful breath-taking projects that you will build after learning and acquiring a new skill as a website builder using WordPress. We also can't wait to read your review of this course because we know that it will be nothing but beautiful.
Trust me, this will be one of the best decisions you took!
Show More
What Will You Learn?
100% online

Self-Placed

English Language

On-Demand Videos

Shareable Certificate
Course Content
Introduction to Website Development
Module 2: Introduction to website development

Module 3: Front-end, backend and full-stack development

Module 4: Introduction to CMS

Module 5: Summary

Introduction to Website Development Quiz
Content Management System
Hosting & Domain
Navigating Cpanel
Website Development With WordPress
Site Contents
Customization
E-Commerce
Basic SEO
Website Management
Conclusion
Earn a certificate
Add this certificate to your resume to demonstrate your skills & increase your chances of getting noticed.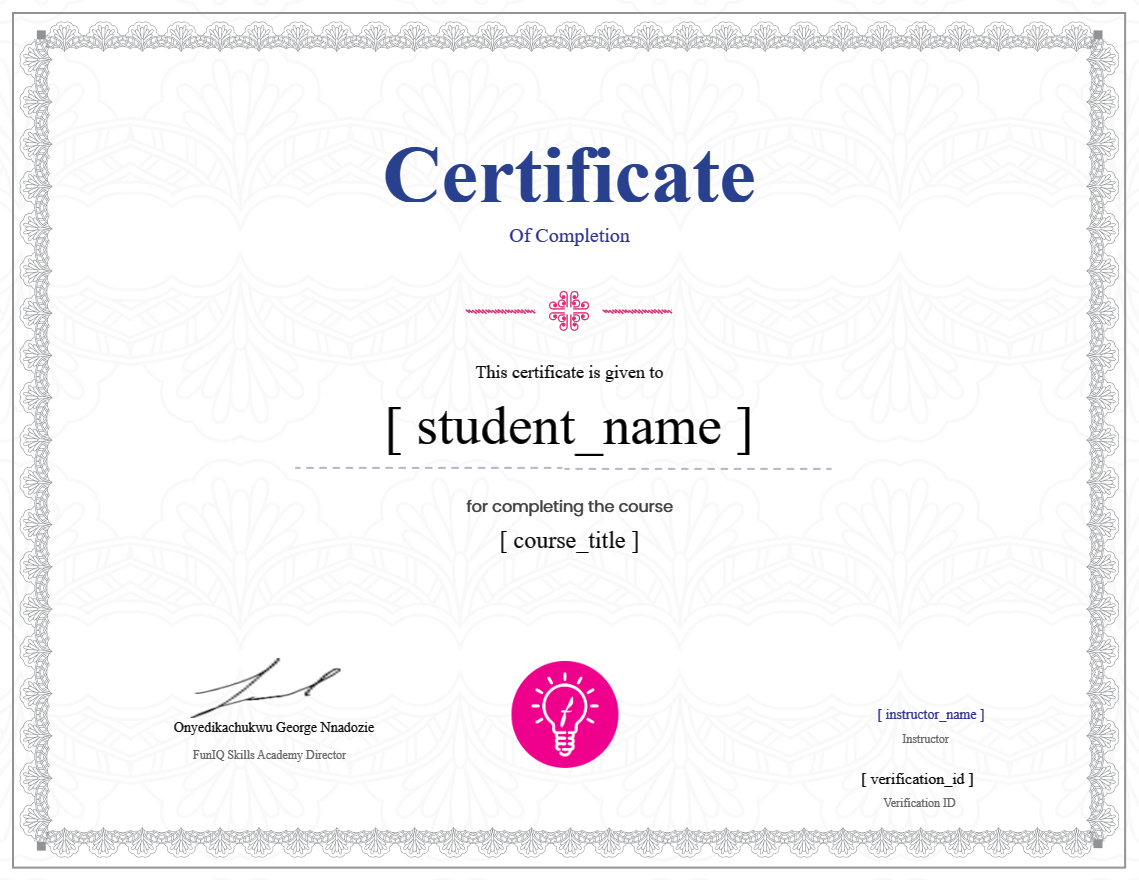 Student Ratings & Reviews